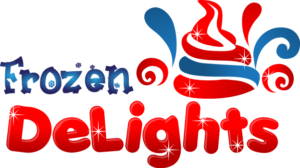 Frozen DeLights has concluded for the 2017 Christmas Season!
We can't wait to bring you a bigger and better show starting Thanksgiving in 2018!
Now running nightly thru December 31st, our FREE Computerized Christmas Light Show, Frozen DeLights!  Check out over 16,000 channels of computer animation controlling 58,432 (2017 Count) LED Christmas Lights!  We can't tell you how many lights yet because you need to enter our contest!  Thru December 20th, you get one entry per frozen dessert purchased into our guess the number of lights outside for a $20 gift card, and of course, bragging rights!  We also have a large static display in the back yard with more traditional style Christmas lights.
Remember to tune your car radio to 93.5 FM when you get here to listen to the music the lights dance to!
Also meet Mr. and Mrs. Merry Claus!  From 6 to 8 pm on Friday December 8th and 15th!